Are you bored with classic barbecues and want to surprise your friends or family with an original dish that everyone will surely like? Then the hunting kettle is the perfect choice just for you! What is it and how to prepare exceptionally tasty and nutritious dishes in it? We write about it below
What is a hunting cauldron?
Recently hunting kettles have been taking barbecue and garden stores by storm. They are nothing but a vessel made of cast iron material with a lid, dedicated to preparing one-pot dishes. As its name suggests, it originally derives from hunting, when it was used during the hunt. At that time it was used to prepare hearty dishes that would give you strength after a long day spent stalking game
How to use hunting kettle?
The hunting cauldron is extremely easy to use – just set it on the hearth. Cast iron from which it is made allows you to cook food on an open fire without worrying about damaging the surface. The material used is characterized by excellent heat conduction and maintains the right temperature of food for a long time. However, cleaning the cauldron is not complicated either, because the food cooked in it practically never gets burnt. After use it is enough to wash it with water and dishwashing liquid and it will be ready for the next use
What kind of boiler should I choose?
On the market you can find many types of hunting kettles. They differ mainly in construction and also in capacity. When choosing a cauldron for yourself, it is worth paying attention to models with screw-in legs, which allow you to freely set it in the hearth. Moreover, after unscrewing the legs, the cauldron can be used for cooking in the kitchen or even on the grill. As for its capacity, standard cauldrons hold about 5-6 liters of food. However, there are models with capacities as high as 20 liters. Therefore, their size and capacity should be adjusted to the number of people who will feast with us.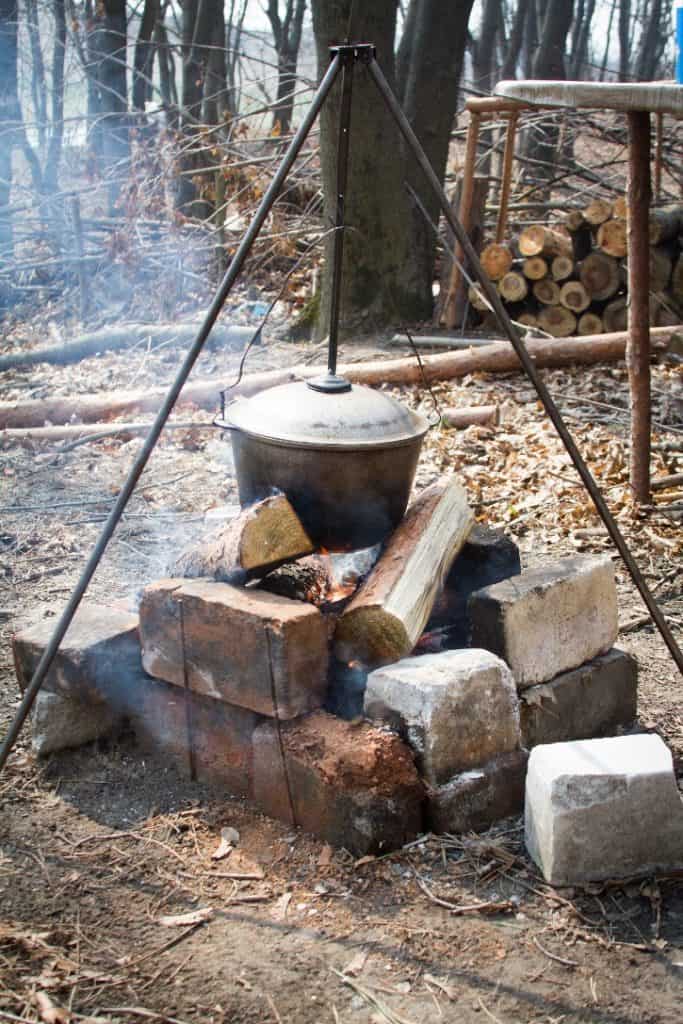 Roasts – a classic dish from the hunting cauldron
There are many dishes that can be prepared using a hunting kettle. However, we present the recipe for one of the most popular dishes, which is sure to taste good to everyone
To make it you will need
2 kg of potatoes,
4 onions,
4 carrots,
500 g of bacon,
500 g of thin, lean sausage,
1 head of cabbage,
salt and pepper
half a cube of butter
Peel the potatoes and carrots and cut into slices about half a centimetre thick. Peel the onions and cut them into thick cubes, as well as the bacon and sausage. Carefully tear off the leaves from the washed cabbage and place them on the bottom of the cauldron. When the bottom is covered, start arranging the potatoes, carrots, onions, bacon and sausage alternately, until all the ingredients are used up. Gently squash the ingredients arranged in this way and place the butter on top, then cover with cabbage leaves. Cover the cauldron with a lid and tighten it. Put the whole thing into the fire and cover the sides of the cauldron with embers, so that it gains temperature. After about an hour the dish is ready to eat
A huge advantage of the hunting cauldron is that you can prepare almost any dish in it, from roast meat, through ribs, pork neck or other delicacies, which will taste and smell really special every time. Besides, when preparing food in hunting kettles, you do not have to look into them too often, because cast iron material prevents them from burning or sticking to the bottom. This way, a nutritious meal is prepared in the campfire and the hosts have time to spend with their guests.