The corridor is the place that is responsible for the first impression. It is the perfect place for a capacious closet, a bench and a shoe cabinet. However, most apartments have small and dark hallways, which overwhelm at the very entrance. How to optically enlarge them?
Good organisation is the key
If your apartment has a small and dark hallway, you can easily change it. Just a few tricks to quickly change the room and give it space. Start with good organization. What should be in the hallway?
A mirror, coat hanger, shoe cabinet, closet and a chair or a bench will certainly be useful. In a small room, there is usually not enough space to accommodate all the elements, so choose the most important ones and use your creativity. So you can put a capacious closet and a chest of drawers, and choose a wall mounted hanger for your clothes
Lighting and mirror
A small hallway will get a completely different character if you take care of proper lighting. In this case, choose wall lamps and illuminate the mirror, which will perfectly reflect the light. To illuminate a small anteroom it is useful to use LED lighting, which you can place next to a closet and a chest of drawers
The light is responsible for optically enlarging the room and giving it a warm atmosphere. You can illuminate the shelves or choose strips. It is important to choose several sources of light instead of one lamp, thanks to which the space will become larger and cozier. Mirror surfaces also have an important function in a small space. They are not only practical, but also optically enlarge the space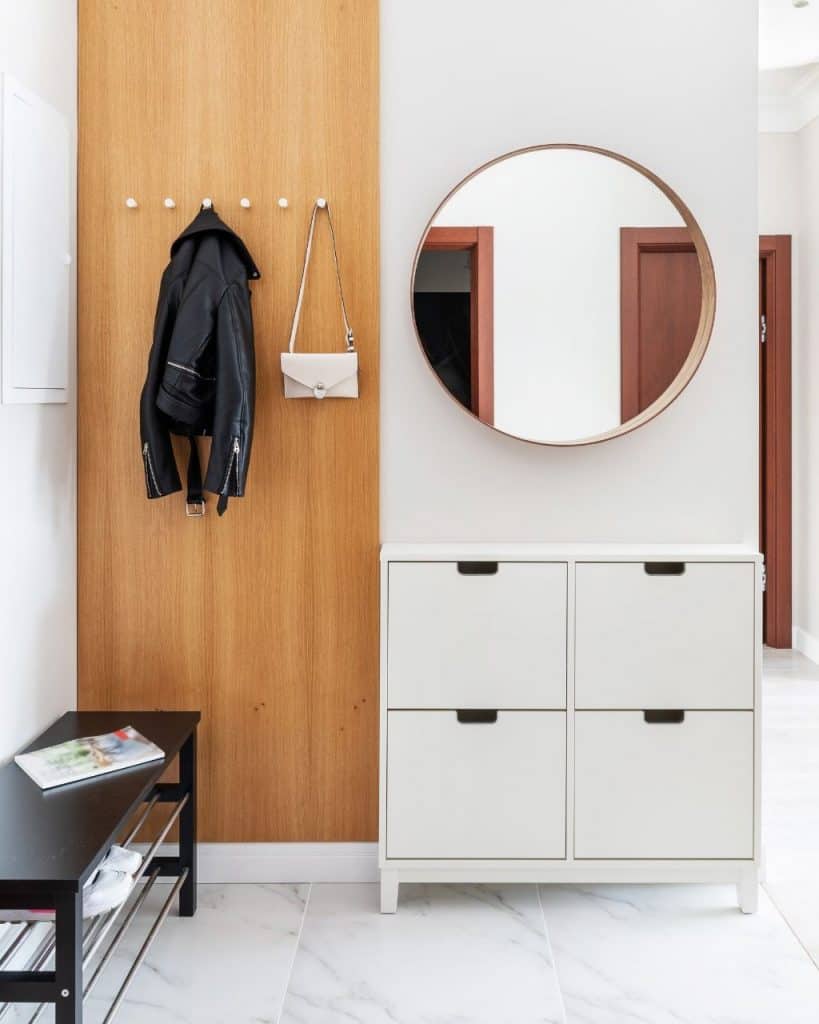 Floor and walls
On the floor you can put wood, ceramic tiles, PVC or stoneware – the availability of materials is huge. However, it is worth choosing light colors, both in the case of floors and walls
The corridor is a very dirty place, so choose a paint with high resistance to washing, which will make it easier to clean and maintain the room. You can also use a proven trick, by applying the same floor in the adjacent room, which will optically enlarge the space.
How about a wall mural?
The room can also be enlarged with the help of spatial wallpapers. You can be tempted to wallpaper the whole room or just one wall. Original and original pattern will surely attract attention of guests and additionally enlarge a small space
If you stick the wallpaper on a shorter wall, you will surely achieve the desired effect. You can also place photographs on the wall, which will give a sense of space. More and more often you can also use decorative plasters, which perfectly mask small imperfections of the walls and make it easy to keep them clean
Arrangement and functionality
In a small corridor counts mainly on functionality and appropriate use of space. Large, spacious and capacious closet is practical, but it takes a lot of space and overwhelms the interior. That is why designers create intelligent and multifunctional furniture. They are not only an interesting addition to the interior design, but also perform practical functions. They can be equipped, for example, with additional storage or a seat. So take a look at your local store and browse through the catalogs. You will surely find interesting solutions for your hallway
What about the stairs?
The space under the stairs often isn't used properly. With good planning you can make great use of the space and gain extra space in the hallway. This will give you storage space and you can remove unnecessary furniture from the hallway that takes up valuable space
Hide accessories and trinkets
When decorating a small hallway, avoid displaying any small items. Boxes, baskets and decorations create unnecessary chaos and take up more centimetres of space. Hide all small items in a closet or a chest of drawers. Additionally, such space is much easier to keep clean
Arranging a small corridor is not difficult at all. Just the right colors, lighting, large mirror and choice of functional furniture to optically enlarge the room. Choosing a wall mural, wall decoration or a decorative hanger will give the room an original character.